We are releasing a new feature in Cyscale, the Playground! It is an application demo that you can access in less than 1 minute. 
Currently, the Playground is populated with data from three cloud vendors: 
We also have integration with Okta, an identity provider. 
In the Playground, you will see a simulation of the infrastructure of a fintech company. However, we believe every company will find something for them there. 
You can observe the following features: 
controls that check for vulnerabilities and misconfigurations, 
compliance frameworks and controls associated with them, 
graph-based visibility of assets, and many more! 
By providing risk scoring, Cyscale can help you prioritize remediation for assets and highlight critical vulnerabilities. 

Below, you can find an example of 3 of the compliance standards that we support: 

See for yourself how the Cyscale application suits your needs and check out the Playground! 
Further reading
Cloud Storage
Misconfigurations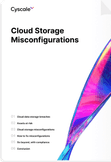 Build and maintain a strong
Security Program from the start.
Download Whitepaper
---
Cloud Compliance in
2023: An In-Depth Guide
The whitepaper talks about ISO 27001, SOC 2, PCI-DSS, GDPR, HIPAA.
Download Whitepaper
---
Share this article
Stay Connected
Receive our latest blog posts and product updates.
Cloud Security
Ensure security and compliance with our all-in-one solution for multi-cloud environments.
CNAPP Security
CSPM Tool
Cloud Data Security
Google Cloud Security
AWS Security & Compliance
IAM Cloud Security
Prevent Cloud Misconfiguration
Container Security
Cloud Native Security Platform