At Cyscale, we see Darkness as a force for good. It can obscure the less relevant and make the vital signals glow even brighter. We're introducing a dark mode for all users, regardless of their plan.
The new dark mode adapts automatically to your system's theme settings. It revamps every color, icon, and font in the app. It's easier on the eyes and even easier on the batteries of certain devices.
A lot of people simply prefer it and we hope you will like it too. Any feedback is welcome.
Further reading
Cloud Storage
Misconfigurations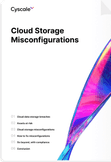 Build and maintain a strong
Security Program from the start.
Download Whitepaper
---
Cloud Compliance in
2023: An In-Depth Guide
The whitepaper talks about ISO 27001, SOC 2, PCI-DSS, GDPR, HIPAA.
Download Whitepaper
---
Share this article
Stay Connected
Receive our latest blog posts and product updates.
Cloud Security
Ensure security and compliance with our all-in-one solution for multi-cloud environments.
CNAPP Security
CSPM Tool
Cloud Data Security
Google Cloud Security
AWS Security & Compliance
IAM Cloud Security
Prevent Cloud Misconfiguration
Container Security
Cloud Native Security Platform